our custom embroidery process
See below for details on how we create one of a kind gifts with our personalization process!
How It Works
Once you've picked out the item you'd like to personalize, click the green "Personalize Me" button on the product detail page. 
Depending on the item, the following options will appear:
1. Choose Your Embroidery location and style
Each item has specific options for embroidery locations & styles to fit the item.
2. Enter in a Name or Date
Based on the embroidery style you chose, enter the name, date or monogram you'd like to have embroidered!
vine monogram
Circle monogram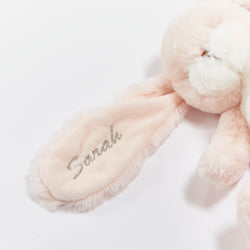 script font
classic font
choose your favorite
thread colors
Choose from 6 delightful colors! Please note if no color is selected we will use the default color shown in the preview for that specific item.
"Not only was this bunny soft and cuddly, the personalized embroidery was so well done. I wouldn't hesitate to buy another one of these sweet little critters." - A Hoppy Customer
"Every kid wants to see their name on items, this makes it extra special!"
- Lisa H.
get the answers you need
frequently asked questions about embroidery
Size, Color, Location
Timing & Other Details
What Makes Us Special
SUPER SOFT & MADE FOR CUDDLING
All of our products are made with the softest of fabrics. Perfectly made for cuddling and snuggling, and designed with safety in mind.
"HARELOOM" QUALITY SINCE 1986
Designed with love and to be loved in our little workshop in Anacortes, WA, by the grandmothers who started the company.