Daisy Girl...Friend Doll is beautiful inside and out, her best virtue is listening. 
Darling Daisy Doll is a soft and loveable knit doll with adorable features. From her brunette hair to her adorable pink boots, she is perfect for a baby's first doll, a big sibling gift, or a special gift for any birthday or holiday.
Daisy features a kind smile on her embroidered face framed with warm chocolate ponytails and a cherry pink soft felt hat with a blue daisy on top! Daisy comes with a two-piece outfit in cheery cherry pink floral with a touch of mustard yellow and delightful polka dot bloomers. Soft and huggable body with grey and white knit stripe legs and arms are perfect for snuggling.
A sweet Hoppy bunny purse with a "Listening" tag serves as a reminder of her very best virtue. Sweet cherry pink vinyl boots featuring the carrot stamp of approval on the sole round out her outfit and are sure to be a favorite accessory!
The perfect choice for baby's first doll, as she is heirloom quality, yet soft and love-able, with details that are sure to appreciated throughout the years. 
Dress up your pretty girl with custom doll accessories!
Doll Size: 15 Inches

Content: Cotton and Polyester, Vinyl Boots
Care: Spot Clean
View How to Put on Doll Boots
We design lovable lovies, superb stuffed animals, and wondrous "hareloom" gifts meant to be cherished for a lifetime. It's our goal to be on your list of go-to-gifts for expecting parents, squishy-cheeked newborns, sweet children of all ages, and anyone that needs a bunny hug!
We value your patronage and want to ensure the best shopping experience. Our payment gateway is completely secure and we have a 100% Satisfaction Guarantee. 
Questions? You can reach out to our 24-Carrot Customer Success team. 
Dear Friends,
Bunnies By The Bay is delighted to process a return. We value your patronage and want to ensure the best shopping experience with our 100% Satisfaction Guarantee.
CONTACT

+1-877-HOPS-2-IT (+1-877-467-7248)
Fax: 360-293-4729
Email: customerservice@bunniesbythebay.com
Please ship returns to:  Bunnies By The Bay, Attn: Customer Service/Returns Department, 3115 V Place Anacortes, WA 98221
Once your return has been received please allow up to 5 business days for processing. 
If you do not have a receipt to accompany a return, we are happy to exchange or apply credit in the value of what the item is currently marketed. Purchases on sales items are final.
Customer Reviews
Write a Review
Ask a Question
Filter Reviews:
Daisy
service
Bunnies By the Bay
doll
products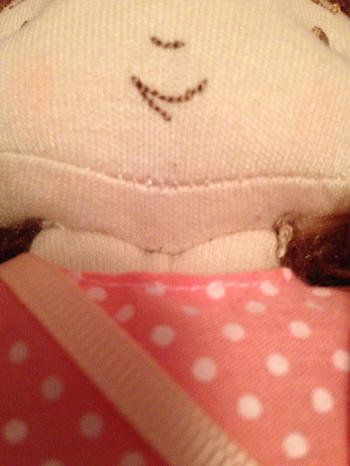 07/24/2019
I recommend this product
I had to make revisions to the face.
When I first saw her face, it did not look cute like in the picture. I think this is just a variation in sewing and unfortunately, I got a badly sewn one. One eye had an indentation, and one did not. The stitching for her left eye's indentation caused her neck to pull up on that side, making the doll's face and neck look crooked, as though sewn misaligned. The under-face/chin was turned up, showing the seam for the lower part of the face. I was very much looking forward to getting her, but was disappointed and considered returning her...especially, since she was costly, for a cloth doll her size. (I should've taken a "before" pic.) I saw two little thread knots under her face, and decided to experiment. I cut the thread attached to those knots. It turns out that, those were the ties for pulling the indentations in at the eye area. I found thread at home which matched her skin tone. I redid the eye indentations and pulled the under-face areas in, knotting at the front sides of the neck and at the center-back of the neck at the hairline. After that, her face looked cuter, as in the picture. Other than that, she was well made. Her outfit is adorable. (BTW: The chest area of the dress is the top part of her dress; not a scarf/bib over the dress.) The hair material is more sparse than the material used for Elsie's hair (the Pretty Inside doll, not the Friend doll), but it could be fluffed up and groomed to fill in. I like the thickness and texture of Elsie's hair better. I don't care for the felt material used in the hat and purse...though well made and cute, they look a bit crafty-cheap. If they were made in fabric, they would look more refined. The boots are adorable and are easy to put on/take off. They have a just-right bit of weight to them. They fit Elsie's feet, too. She is not able to stand freely. Her feet looks like Elsie's ***** feet. She is slightly weighted, with a sitting-bottom shaped bottom. The stripes on her limbs do not match-up at the seams. Overall, I like this doll. I have the Elsie Pretty Inside doll, this doll, and Rosie is on the way.
07/28/2019
Bunnies By The Bay
Hello We are terribly to read about the trouble you had with your Daisy Doll. You went to a tremendous amount of work to address what was not correct about this product. Please allow us to send you a replacement doll. I will have our customer service team contact you to make arrangements. Our apologies Give Glad Dreams Anne Callaghan Director of Serious Stuff at Bunnies By The Bay
06/13/2020
I recommend this product
Perfect Birthday Gift
In the past my granddaughter has loved my gifts of Bunnies By The Bay's soft stuffed animals. For her third birthday, I sent her Daisy Girl. Big success! (I like the idea that she can take Daisy Girl's boots off and put them on, good training for when she puts her own on.)
Anonymous
United States
06/09/2020
I recommend this product
Cute girls
I ordered two dolls. Bother very cute, but they seem smaller than I thought they would be. Well made but too pricey.
Eileen C.
United States
03/28/2020
I recommend this product
Beautiful dolls and very quick service.
Bunnies by the Bay seems to go above and beyond the expected service. Their products are adorable. Daisy is the second doll we have purchased, and probably will not be our last!
Toni N.
United States
03/30/2020
Bunnies By The Bay
What a great email to read, we appreciate your continued business! We are proud of our dolls. Pretty Girl Friend dolls are the perfect doll for the under 5 age group. Thank you for helping us Give Glad Dreams Cheers and Bunny Ears to You Anne Callaghan Director of Serious Stuff
11/03/2019
I recommend this product
I ordered this doll and
I ordered this doll and puppy for my g'children. They love them and I LOVED your quick shipping and nice packaging. Thank you! Dian Felkins
Justus F.
United States