Blossom Bunny Buddy Blanket
For
personalization
there are two different font choices. We will use a coordinating thread color and appropriate sized font based on the individual item. For more information regarding personalization please visit our
frequently asked questions page
.
The Blossom Bunny Buddy Blanket is a stuffed animal and lovey in one! The best of both, to comfort and soothe even the choosiest of babies. Blossom has a white plush floppy-eared bunny head and arms with a handcrafted, baby-safe embroidered face. The snuggly and super soft pink velour split blanket is lined and edged in silky satin for tactile development and soothing. The Blossom Buddy Blanket is designed with safety in mind.
Features
16" tall. 

Baby safe

100% Polyester.

Machine wash cold, tumble dry low. 
Sure to become a best friend for your little one, the difference is in the details. From the embroidered message along the edge of the blanket that reads, "Best Friends Indeed" with a charming trail of carrots to our signature three carrot tag that every baby undoubtedly explores with their little fingers, our security buddy blankets are filled with thoughtful touches. A must-have comfort object for baby and parents.
Bunnies By The Bay Buddy Blankets are machine washable to keep baby's favored toy clean, safe, and durable so Blossom can withstand the test of time which will be filled with lots of cuddles.
Add a custom embroidered name, monogram,or date to create a truly personalized and thoughtful gift. 
Why We LOVE Buddy Blankets:
Parent Approved and Recommended Baby Security Blanket

Stuffed Animal, Baby Lovey and Best Friend In One

Super Soft, Multiple Textures for Tactile Development and Soothing

Hand Embroidered, Baby Safe Details

Split Baby Blanket Design for Safety

Personalizable for an Extra Special Touch

Can Ease Separation Anxiety

Machine Washable for keeping baby safe and clean

Perfect Baby Shower Gift
Shop more personalized gifts for lasting memories!

We design lovable lovies, superb stuffed animals, and wondrous "hareloom" gifts meant to be cherished for a lifetime. It's our goal to be on your list of go-to-gifts for expecting parents, squishy-cheeked newborns, sweet children of all ages, and anyone that needs a bunny hug!
We value your patronage and want to ensure the best shopping experience. Our payment gateway is completely secure and we have a 100% Satisfaction Guarantee. 
Questions? You can reach out to our 24-Carrot Customer Success team. 
Dear Friends,
Bunnies By The Bay is delighted to process a return. We value your patronage and want to ensure the best shopping experience with our 100% Satisfaction Guarantee.
CONTACT

+1-877-HOPS-2-IT (+1-877-467-7248)
Fax: 360-293-4729
Email: customerservice@bunniesbythebay.com
Please ship returns to:  Bunnies By The Bay, Attn: Customer Service/Returns Department, 3115 V Place Anacortes, WA 98221
Once your return has been received please allow up to 5 business days for processing. 
If you do not have a receipt to accompany a return, we are happy to exchange or apply credit in the value of what the item is currently marketed. Purchases on sales items are final.
Customer Reviews
Write a Review
Ask a Question
Filter Reviews:
daughter
Bunnies By the Bay
bunny
gift
quality
company
service
times
employees
order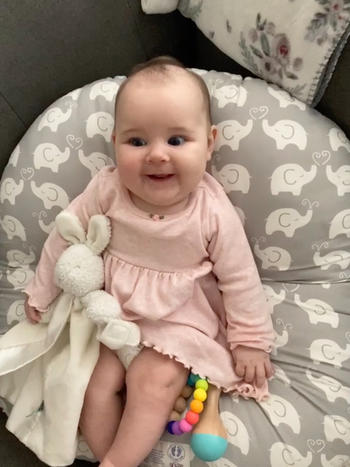 01/07/2021
I recommend this product
Blossom Buddy is the best
Over the years I have purchased Bunnies by the Bay and also my grandchildren have received them when they were born from other folks. My grands LOVE them as they are so soft and durable and just sweet!
Linda A.

United States
01/06/2020
I recommend this product
Priceless!
We received a Blossom Bunny Buddy Blanket as a gift about a week before my daughter was born. It came home from the hospital with her and she has been sleeping with it every night since...and that was 16 years ago!!!! Back then they also came in pastel yellow. She is not yellow any more but has grayed with age. The only repair I have had to do was to patch the stain at the base of the head inside the blanket part. The rest of the satin is now rather frayed but we still wash her in the machine in a lingerie bag on gentle cycle and then let her air dry. I have been informed that "Mimzy" will be going to college. Dad and older brother think that is a good idea thinking that she will keep the boys away! Lol!
Wende H.

United States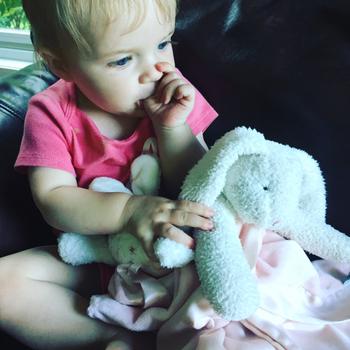 10/30/2019
I recommend this product
Continues to be a lifesaver!
This is our fourth bunny and is an instant comfort for our 18 month old!
JM
Jennifer M.

United States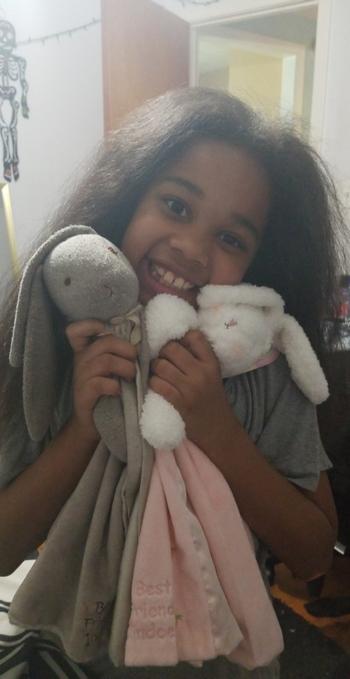 06/10/2019
I recommend this product
14 years later
14 years ago when I saw this bunny I found Love the message was sweet and the material was soft... I knew my child would love this for a long time... I introduce you to my then three-year-old she wanted no interest.. I kept trying as she grow no luck... When she was seven I had another daughter and she immediately fell in love with the bunny.... Now 8 years later she's carried the bunny every single day of her life for 8 years around the house as she sleeps with it every single night can't go anywhere without it, comfort her when she's sad.. it's the best stuffed animal... We also call it her lovie..It also use to be pink and white
01/10/2021
I recommend this product
Lovely baby gift
I was pleased to receive the Blossom Buddy Baby Blanket I ordered. It was even softer and more snuggly than I imagined. It was made well and good for a baby to cuddle with all its differnet touchable surfaces. A good sleep companion for a baby or toddler.
Anonymous

United States