Where We Give Glad Dreams Worldwide
Bunnies By The Bay is proud to be a part of the family of FAO Schwarz Toy Stores, as well as other fine retail establishments all over the world. Our goal is to bring love, comfort, security and joy to the world from our very own Cricket Island, a place where everything can be rescued and mended, even broken hearts. Share in our stories, our characters, and the Glad Dreams that will inspire you and your loved ones for generations to come.
Please visit our store locator for more details >
In October 2019 we were busy bunnies! We opened stores in London and Dublin as part of our partnership with FAO Schwarz and we are so thrilled to be able to continue to Give Glad Dreams to even more families across the globe. Arnotts is the oldest and largest department store in Dublin, full of history and located in an iconic location on Henry Street.



In October 2019 the Iconic Selfridges department store on Oxford Street in London became home to the first European Flagship store for FAO Schwarz. The store offers the four key trademarks of the New York store – the dance-on piano, the clock tower, the rocket ship, and the greeters dressed as toy soldiers, and our own addition of a visit to Cricket Island. Please join us to play in the bunny hutch, captain the boat, and find a "best friend indeed" to be cherished for a lifetime.




On May 24, 2019 FAO Schwarz, Beijing opened their doors in the famous China World Mall with a focus of creating a theatrical experience, where parents and children will not only come to shop but interact and participate in an experience unlike any other. Bunnies is incredibly proud to be a part of this experience, bringing shoppers a little taste of Cricket Island. Complete with a bunny hutch playhouse, and custom embroidery options on a multitude of our favorite items we were welcomed with open arms by the people of Beijing. We couldn't he happier to say that our little Island continues to grow and bring more Glad Dreams to people all over the world.






Come see us at 30 Rock! FAO Schwarz, the iconic toy store from New York City is back again, now located in Rockefeller Plaza. Bunnies By The Bay is delighted to be a part of this long anticipated re-opening. Come visit Cricket Island, where we bring you our classic security items and gifts for babies, luxurious plush and dolls for all ages, custom embroidery and the wit and charm that could only be found from Bunnies By The Bay.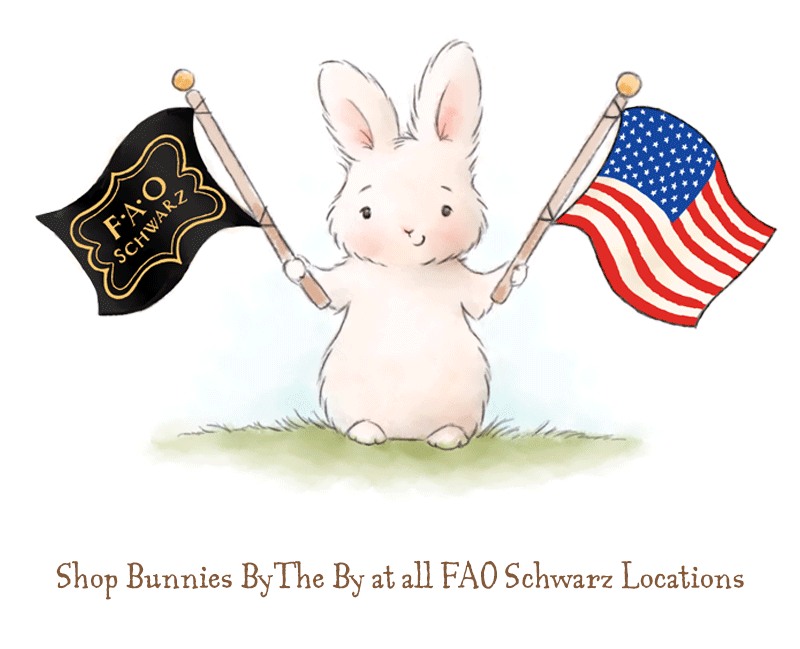 Find us at these fine retailers: